DETERMINATION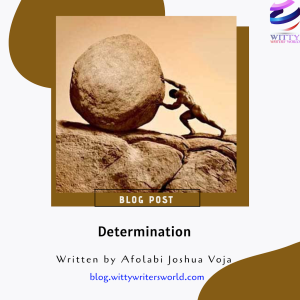 Your destiny is not a matter of chance,
it's a matter of God's choice.
When you determine what you want,
you have made an important decision.
You must know what you want
before you can acquire it.
Your decision determines your reward and crown.
Crown fades when decision is weary.
The car of failure is running on the road of indecision.
You must be decisive
even when it means you will sometimes be wrong.
Try to always make a right decision.
Wise men make their own decision
But fools follow public opinion
Don't be like a wheel barrow
It doesn't move until it's pushed
Try to be decisive.
© Voja
AFOLABI, Joshua Voja is a dedicated writer, seasoned poet, committed academician, talented photographer and professional graphic designers. He is a graduate of Law from the prestigious Kogi State University, Anyigba, and currently a masters student at Federal University Dutse, Jigawa state.
He hails from Kogi state and based in Jigawa State.